The U.S. Senate is expected to hold a vote Thursday that could potentially override President Donald Trump's veto of a joint resolution restricting the president's power to use the military in launching attacks against Iran.
Senate Majority Leader Mitch McConnell (R-Ky.) announced that a vote would be held Thursday afternoon that could override Trump's veto, according to The Hill.
Trump vetoed the resolution months after it passed both chambers of Congress, with eight Republican senators having joined Democrats in voting to limit the president's ability to use military force without prior Congressional authorization.
"This was a very insulting resolution, introduced by Democrats as part of a strategy to win an election on November 3 by dividing the Republican Party," said Trump in a statement issued Wednesday. "The few Republicans who voted for it played right into their hands."
The resolution "would have greatly harmed the President's ability to protect the United States, its allies, and its partners… Congress should not have passed this resolution," Trump concluded.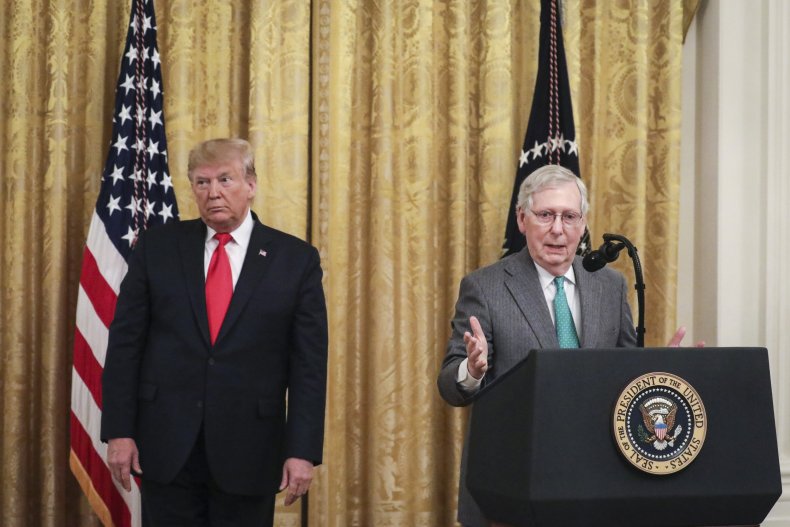 Since a two-thirds majority is required to override any veto and only 55 out of 100 senators voted for the resolution, it is highly likely that the veto will stand despite a vote to override being held. Votes in the House also fell well short of a two-thirds majority.
The bipartisan resolution was introduced in January in the wake of Trump ordering an airstrike that killed Iranian General Qassem Soleimani. Most Republican lawmakers at the time supported the president's use of force.
However, there was notable dissent from some, including Sen. Rand Paul (R-Ky.) and Sen. Mike Lee (R-Utah), both of whom insisted that Congressional approval was required to use force and found the intelligence used to justify Soleimani's killing after the fact decidedly unconvincing.
If Trump's veto stands, it would be the seventh time he has successfully used the power during his presidency, with the previous six all occurring last year. None of Trump's vetoes have been overridden.
The president insisted that he has the Constitutional authority to act alone in using military power for "threats beyond imminent attacks," while praising his own "decisive actions" in a message to the Senate on Wednesday.
"Due to my decisive actions and effective policies, the United States is not engaged in the use of force against Iran," Trump wrote to the Senate. "My Administration has taken strong actions, within statutory authority, to help keep our Nation safe."
"I will not approve this resolution, which would undermine my ability to protect American citizens, service members, and interests," the president added.
Newsweek reached out the White House for additional comment. This story will be updated with any response.