# # #
It's "Media Availability" time again! Above you'll find video of Humboldt County Health Officer Dr. Teresa Frankovich answering the latest batch of questions from local media. Below you'll find summaries of those questions and her responses. Please enjoy.
Six California counties asked the governor to let them reopen, reasoning that the virus is not prevalent in their rural communities. Does Public Health agree that counties with lower case counts should be allowed to open sooner? (0:12)
"Well," Frankovich says, "I can only comment on our county." She goes on to argue that case counts don't give an accurate picture of where we are in the county. "We have not had adequate testing capacity to do the surveillance that would let us know what our disease burden really is in our community."
The CDC just released a list of six new symptoms of COVID-19. [Note: The symptoms are chills, repeated shaking with chills, muscle pain, headache, sore throat and loss of taste or smell.] How will that impact testing criteria in Humboldt County (1:11)
The county has been recommending that anyone with mild symptoms isolate themselves, though increased testing capacity will allow for testing of mildly symptomatic people and asymptomatic people in at-risk communities, Frankovich says. 
Modoc County plans to reopen May 1. How soon could Humboldt follow suit? (2:14)
We're still operating under a statewide shelter-in-place order, Frankovich notes, and the county needs to do more testing and preparation before reopening. 
What advice do you have for first responders who may be suffering from stress? (3:50)
It has been a stressful time for everybody, Frankovich says. She recommends spending time outdoors, and for those really struggling, call the county's Mental Health Line: 707-268-2999. 
How many first responders, health care workers and law enforcement officers have been tested? (5:00)
Testing capacity has increased. Today, thanks to the new testing center, the county tested about 230 people, and there's about that many planned over each of the next two days, Frankovich says. She doesn't answer the question, though.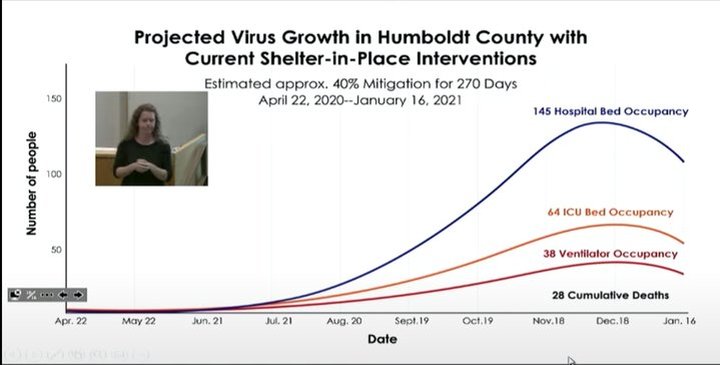 What would cause the big surge in the model (pictured above) shown during last week's live dialog? (5:50)
The shelter-in-place order has slowed down, but not eliminated, community transmission. Expect it to increase as we lift the order, Frankovich says. "What the model is really telling us is that, if we maintain this current level of decreased activity, we're still at some point going to see an increase in cases because people are interacting, and we will slowly spread this virus," she says. The county needs to navigate a middle path between current shelter orders and a full reopening of society. 
Have local testing criteria expanded? (7:42)
Yes, she says. The county was already giving priority to frontline workers and people in congregant living situations, and with increased capacity those groups will get even more testing.